Delicious dishes made from Lasagne and Fettuccine will help stimulate your taste buds. Let us suggest to you some perfect and simple pasta recipes that you can make right away.
Roasted Vegetable Skillet Lasagna 
Harvest vegetables are the main feature of this skillet lasagna recipe. The flavor and texture of roasted butternut squash and parsnips are highlighted by lasagna sheets and baked to perfection along with ricotta and Parmigiano-Reggiano cheeses.
Recipe (8 servings)
1 box Barilla Wavy Lasagne-broken into large pieces,
1 jar Barilla Roasted Garlic sauce,
2 tablespoons olive oil,
2 cups peeled and diced butternut squash,
2 cups parsnips-peeled and diced,
1/2 teaspoon salt 1 cup part-skim ricotta cheese,
1/2 cup shredded mozzarella cheese,
1/4 cup finely shredded Parmigiano-Reggiano cheese,
Step to cook 
Preheat the oven to 400° F.

In a deep 12-inch skillet, heat oil in the oven for 5 minutes. Add squash, parsnips, and salt, and toss to coat; return to the oven. Roast about 25 minutes or until tender, stirring once halfway through.

Meanwhile, in a large pot, bring 4 to 6 quarts of water to a rolling boil; add salt to taste and the lasagna sheets; stir gently. Cook according to package directions; remove from heat and drain well, reserving 1 cup pasta water.

Remove vegetable skillet from the oven. Stir in the lasagna sheets and garlic tomato sauce. Stir in just enough of the reserved water to moisten. Top with dollops of ricotta cheese, and sprinkle with mozzarella and ¼ cup Parmigiano-Reggiano. Place in the oven for 10 minutes to heat through.

To serve, sprinkle with additional Parmigiano-Reggiano cheese. 
Italian Sausage Fettuccine Recipe with Leeks
Cozy up with this Italian sausage and white wine fettuccine pasta recipe. It's creamy and flavorful all year round!
Recipe (8 servings)
1 box Barilla® Fettuccine,
2 tablespoons extra virgin olive oil,
1 pound Italian sausage, crumbled,
2 leeks, sliced,
1/2 cup white wine,
1/3 cup Parmigiano-Reggiano cheese, grated,
2 tablespoons fresh parsley, chopped
Step to cook 
Bring a large pot of water to a boil.

Remove casing from sausage and brown in a large skillet with olive oil. Add leeks; cook for 3 minutes and deglaze with white wine. Cook until liquid reduces by half. Add salt, and black pepper; simmer for 5 minutes.

Cook fettuccine pasta according to package directions. Drain.

Add pasta to the skillet and toss with the pasta sauce.

Sprinkle cheese on the Italian sausage fettuccine pasta and garnish with parsley before serving.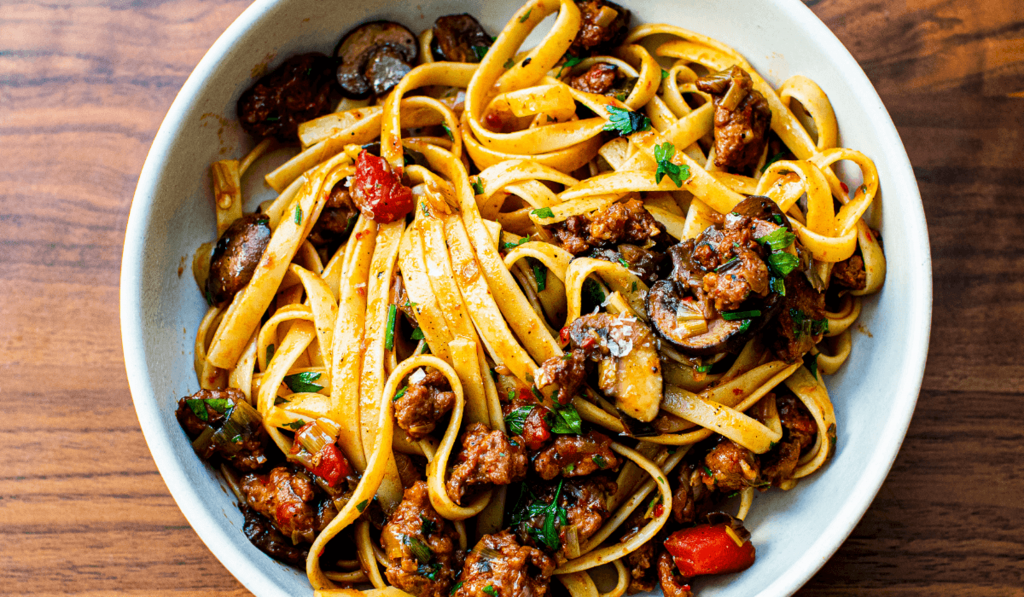 (Source: https://www.barilla.com)