Let's discover all the sincere sharing from our customers about their experiences at Annam Gourmet and their perspectives and aspects about modern women!
MS.DANG HONG TRANG – REPRESENTATIVE FOR AN INFLUENCER MARKETING COMPANY
Q: What difficulties are women facing nowadays, both in life and in career?
A: For me, the most difficult thing is how to balance between family and work. Sometimes you can't be able to spend enough time on both.
Q: Did you have any obstacles in balancing your life? How did you overcome them?
A: I learned to arrange my time effectively to balance everything in life. My motto is "Done is better than Perfect". I used to be a perfectionist, but I realized it sometimes put too much burden on me, so I learn to moderate my perfectionism, try to get work done, and be satisfied with what I have.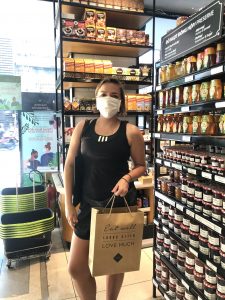 MS.KOREY GREXTOM – ENGLISH TEACHER
Q: What do you like most about Annam Gourmet?
A: Well, I really like the fresh products and the cheese selection. I can't get that anywhere else. When I came here, I always buy meat and cheese.
Q: What is your most breakthrough moment in your life? And why?
A: Breakthrough? I guess when I became a teacher. Well, when I was at school, I didn't think that I'll become a teacher, I thought I would do something else. A couple of years ago, I started teaching English and I quite enjoyed it.
Q: What are the most challenges that women face nowadays?
A: I think safety. Just being careful when we go out and try not to be a victim by using fanny packs, texting friends when I'm out, and give them my location.
MS.VU THI HONG THUY – STAFF OF OFFICE AT VIETCOMBANK TOWER
Q: What do you like when shopping at Annam Gourmet?
A: I care about the freshness of food, that's why I choose Annam Gourmet. Besides, the green campaign at the store has partly helped me become more aware of saving the planet, bring my own bags when shopping to reduce plastic bags to the environment.
Q: What difficulties are you facing in life?
A: Difficulty is something that everyone encounters for sure. I think balancing between family and work will be a problem for the majority of women. For me, as a family-oriented person, I will choose to spend more time taking care of my home and caring for my family, but I will always get the job done in the best way. I think it all depends on you, as long as you are happy and satisfy with your choices.